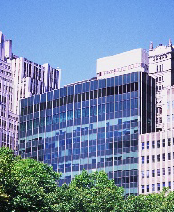 104 West 40th Street
Purchase Date: November 2005
Financing
Mezzanine Financing: $0.0
In November 2005, Mermel & McLain Management acquired 104 West 40th Street and formed an equity partnership with a pension fund.  Mermel & McLain created and structured this purchase directly with the seller, RFR Realty, without broker involvement. The property was purchased for $82.5M, consisting of $46.0M in equity and $36.5M in an assumed first mortgage with Bank of America. Mermel & McLain Management LLC was the managing member of the entity that owned the property, Elm West 40th Street Associates LLC. 
While leasing and managing the building, Mermel & McLain compelled Springs Industries, the building's anchor tenant, to increase its annual lease rates by 81% through a rental rate increase and re-measurement in order to gain a consent to merge.  Mermel & McLain also structured a sublease arrangement with National Geographic to recapture space on the 18th floor for 66% of National Geographic's lease rate.  It then leased the space to three new tenants, increasing the average rate by 47%.  Total rent received on the space, including new leases and the 33% still being paid by National Geographic, increased to $96 psf, from the prior $53 psf.  Finally, Mermel & McLain implemented a pre-build scheme for rolled spaces that enabled the building to reach lease rates in excess of $70 psf, up from rates in the $40 psf range at the time of acquisition.
104 West 40th Street was built in 1962, and possesses 210,000 square feet of office space and 67,617 square feet of air rights. It is located at the corner of the Avenue of the Americas and overlooks Bryant Park. Major tenants included Springs Industries, Inc., National Geographic Society and Evolution Markets.   
In June 2007, the partnership recapitalized and sold the property for $145M to another Mermel & McLain entity jointly owned by a life insurance company.  The ROE multiple for the transaction was 2.3x initial equity and the IRR was 59%.
SaveSave